Vocal Mixing Skill #5: Vocal Compression (How to Tame Unruly Vocals, Add Tone & Punch)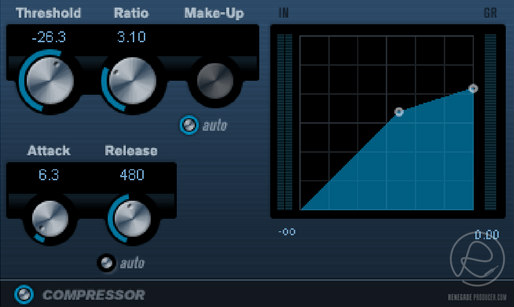 Vocals will be compressed, often at multiple points in the process. How much you compress depends on the track and also the genre you're mixing.

Most pop, dance and hip-hop vocals today are squashed to hell and back, and then squashed a bit more.  Less so in lighter genres like jazz and folk.
Compression is a subject for another huge post later on. Here's the 40,000-foot overview in the meantime:

How to compress a vocal:
Place a compressor on your vocal track as an insert and set the attack and release as fast as they can go.


Pull down the threshold to a point where you're clearly overdoing it. You may need to push the input gain up if the compressor has no threshold parameter. The point is to exaggerate the effect of the compression so you can hear what's happening.  It will sound like a hot pumping mess. That's fine.


Put your ratio as high as it goes.


Start with your attack at its fastest. Pay attention to the transients, the absolute beginning of the attack of your words and syllables. Slowly increase your attack time until each initial transient has the right amount of thick to thin ratio for the vocal, according to your taste. Longer attack times will thicken the transients and a faster attack thins them out.


Start with your release at it's fastest. Slowly increase the release time.  Pay attention to the moments when the compressor let's go and releases its clampdown on the signal.  A very fast release will often pump and suck.  Make the release time longer slowly until the pumping subsides and you get a smoother release.  Lock it in time it with the groove of the track. Make it musical. Get it in pocket. Perfect!


Now, adjust your ratio.  The higher the ratio the more compact, smaller and more dense or solid your vocal will appear.  The lower the ratio the larger, more transparent and loose your vocal will appear between the speakers.  Try to use as low a ratio as possible while you maintain the attack and release effects you achieved in the previous two steps.


Now lower your threshold to where you get about 3db to 6db gain reduction. You should be pleased with your results at this point. Tweak if needed.
What to listen for:

Threshold and Ratio - Dense vs. Transparent, In Your Face vs. Relaxed
Ratio - Wide/Big/Loose vs. Narrow/Small/Tight
Release - Groove/Push & Pull/Tails
Attack - Snap/Weight/Punch/Transients

A lower ratio of about 2:1 is best on vocal because that means you're not squashing the life out of your track.  It's not unusual to see 8:1 ratios on vocals.

You may want to rather load up two compressors in series and use lower ratios on each.  So, for 8:1 compression you may use one compressor with a 2:1 and another with a 4:1 ratio. That gives you a 8:1 compression but splits the workload between two compressors which tends to sound nicer than using one compressor.  Added bonus,  you get to impart a different tone to the sound due to the mechanics of each compressor being slightly different.
There will be times where you want to maintain the dynamics of the vocal while adding a bit of body to the tone.  
This is where parallel compression can work wonders:

Create a bus or aux FX channel with your compressor on it or duplicate your track to achieve the same effect.


Compress the duplicate track or send.  Don't be afraid to squash it and use higher ratios.


Blend the compressed signal into the main vocal.


Sit back and savor your immense genius for a moment!

The above technique allows you to keep the main vocal dynamic while you add body or tone with the compressed duplicate track or send/return.

Compression issues to listen out for on vocals:

Over-compression:  Compressor is clamping down the whole time.  Raise the threshold to ease off the compression a bit.  You want your softer parts uncompressed.
Too wide/loose/not focused enough:  Up your ratio a bit.
Too narrow/tight/focused: Lessen the ratio.
Lacks punch: Try a longer attack setting.
Lacks body: Try a longer release or higher ratio.
Pumps too much: Make release longer.
Doesn't swing or groove right: Adjust release to get your compressor to make it let go of the signal in a more musical way.
Another form of compression useful for vocal mixing is de-essing...

Sharp vocal sibilants can ruin a mix.  Too little sibilance however and your vocal becomes unintelligible.

You can of course use your EQ to remove frequencies between 5kHz and 12kHz.  The problem with this is that it cuts those frequencies out for the vocal the entire time.
De-essers are frequency-specific compressors which allow you to remove sharp sibilance whenever it occurs.  This is done by compressing a specific band of frequencies every time they cross a threshold you've set.  So, you don't have to cut out those scratchy 5-12kH-ish frequencies out of the vocal completely,  only when they misbehave. Nice!

To de-ess:

Use an EQ to determine which frequency range your sibilance occurs at.  It differs from vocalist to vocalist and depends on the choices made during the recording process. Between 5kHz and 12kHz is a good place to start your hunt.


Add your de-esser as an insert on your vocal track and set the frequency to the same frequency you discovered in step one.


Now pull down your threshold until your de-esser kicks in and pull it down until your sibilance is tamed. Back off if your words become unintelligible.
Experiment with your de-esser in different positions in your vocal mixing chain.  It's often near the end of the vocal chain to remove any sibilance issues caused by processors and effects in the chain.
Multi-band compression can also work wonders on a vocal.  You can use it instead of an EQ.  More on that in a future post.

Tools of the Trade:
Voxengo Voxformer Compressor by Voxengo
PSP OldTimerME Compressor by PSP Audioware
Waves Renaissance Vox
Waves CLA-2A