Music Mastering - What is It? Do I Need It? How Do I Do It? Should I Pay For It?  These Questions and More Answered Here..

Music mastering is the final stage of the music production process which follows the mix.  Mastering makes your album, EP or single ready for commercial release and distribution.
In the most basic sense mastering is about ensuring your track is fit for purpose. In other words, if your track is meant for the club,  you want it to sound good on a club playback system.  If your track is meant for release on streaming platforms then you want it to sound as good as possible after upload.
Of course, when it comes to album mastering it's not just about making all the tracks sound as good as possible but also making all tracks consistent with each other.
In this section of the website we look at everything music mastering so you'll know what it is, how it works, why it's important and what your best options are when it comes to mastering your own music or getting it mastered.Let's start with your main options when it comes to mastering for your own music...

Music Mastering - Your  3 Options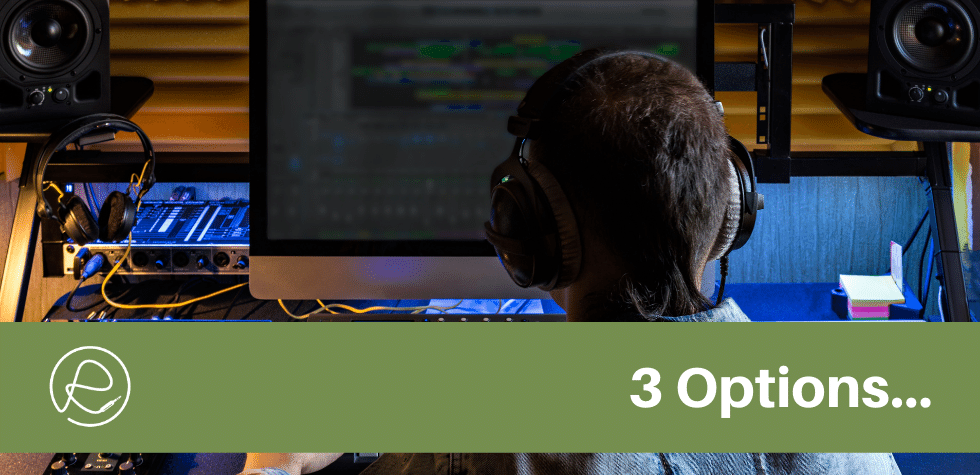 Yes, when it comes to mastering your music you have only 3 options. Let's take a look at these...

1. Master Your Own Music

The first option is to master your own music.  The main benefit of this route is of course, as you can imagine, that it's free, at least if you already have a DAW and basic studio setup.
Another great benefit of this route is that you have complete control over the entire music production process from start to finish.
The main drawback is however that you don't get a second set of ears to work on your track. If you've ever been in the bubble of producing a track you probably already by now just how valuable a bit of context and perspective can be.
Another thing to keep in mind is that unless you have a ton of mastering experience,  a superb listening environment and great gear and plugins, you're most likely not going to be able to do a good job. It's not impossible but highly unlikely.
Check out this post for an introduction to mastering your own music.
2. Hire a Professional Mastering Engineer

This is the preferred option when it comes to music mastering. Leave it to the professionals!
The main benefit is of course the advantage of having a second party there to instantly point out any obvious mistakes you've made while mixing. Never underestimate the bubble you're in when you've been producing a track for weeks.  An experienced mastering engineer will instantly hear what's wrong with your mix and tell you how to correct it before you even get to the mastering process.
A good mastering engineer, well-versed in the intricacies of your genre,  will however bring much more to the table. With a professional mastering engineer you get...
The experience.
The ears.
The gear.
The studio.
A fresh perspective...

A good mastering engineer provides you with a second set of ears and a different nervous system.  This means they may be able to quite easily pick up issues you don't hear because of your involvement in production or mixing.  In other words, obvious issues may not be noted by you since your own nervous system has adjusted to compensate for these issues. The mastering engineer gives you a chance to limit the chance of such issues making it to the final production.
The benefit of experience and skill...

The process of mastering a track, EP or album involves using EQ, compression, phase correction and other tools to create a balanced master ready for public consumption.  Mastering involves making very subtle tweaks to your mix, where and when needed. Experienced mastering engineers know which subtle tweaks to make, and when to make them, which something they picked up through experience and practice.
The listening environment and tools...

You'll find different equipment, and often expensive outboard gear in a good mastering studio not present in the normal recording or mixing studios of small studio owners or music producers like yourself. The ability to hear the source material or mix is also vital when it comes to mastering, so proper mastering studios or engineers will spend a lot of money and energy to create the right acoustic environment to work in.  This is again something which most producers don't have set up at quite the same level.
Working with a mastering engineer...

I've written a brief music mastering tutorial which shows you how to find a mastering engineer and how to prepare your tracks for the mastering session.Now,  as you can imagine,  the drawback here is that it will cost more.  If you are however serious about your musical legacy and want to make sure the quality is up there with the best then this is a small price to pay.The only caveat I can think of here is that you want to make sure you get a good mastering engineer for the job. At this moment,  there is no better option for your music. Find a pro and pay them. Simple!
3. Use Automated Mastering Services

In recent times we've seen the rise of automated online mastering services like Landr, Cloudbounce and Aria.
Now, while your initial reaction may be that these services cannot be that good,  you may need to reconsider. Yes, I agree that these services don't, right now, compete with experienced mastering engineers.  Will that change? Who knows?
These types of services do however have their place and they keep getting better. Limited budget? Need a quick master to play out this weekend? Want to test your current mix version?  Automated mastering may just be what you need.
Check out this post to find out when Landr mastering makes sense.