Confession: I wasn't a big fan of the idea of Landr mastering when it first dropped, but things have changed and so has my opinion, (slightly)...
That's right,  when Landr mastering first came on the scene back in 2014 I thought something along the lines of...
"Gimme a break! No way automated online mastering will be able to do the job of a good mastering engineer!"
I gave it a decent shot.  The results were, quite frankly, a bit disappointing.
Now,  I'll hasten to add that Landr mastering has improved by leaps and bounds since then.
I admit. My opinion hasn't however changed much in this regard.  It's just gotten a little bit more nuanced.
I still don't think Landr mastering will in most cases produce better results than a seasoned mastering engineer. Sure, you may get lucky with the algorithm here and there,  but I still find aspects of the feel and groove lacking in most Landr masters.  I'm sure their best guys are working on it but it's not there yet.
That said, I now believe Landr mastering has a place in modern music production and below I'll elaborate on when I think it makes total sense to use the service and similar automated online mastering services like it. 
First, When Landr Mastering Doesn't Make Sense...
Let's say you've put blood, sweat, tears and even a bit of your hard-earned money into a single, EP or album.  You want it to be respected,  you want it to be something you're certain you're proud of and you want it to be big.
In the above case I'd say try Landr mastering.  Give it a go and maybe you strike it lucky and the machine just by chance does the job in a way that you find great. It's come a long way since the early versions and when you take into account your savings in terms of time and budget you may just be in for a win.
Now,  if that doesn't work, you know what the solution is right? ;-)
Yip! Find a great mastering engineer in your chosen genre and work with them to get it right.  Yes, it'll cost more but this is your music and if you want a body of work that you can look back on with pride then cutting corners is probably not a good idea.
So,  in most cases where you care about the quality,  a great mastering engineer is the option that'll most likely get you the results you want.  Not always,  but in most cases it's still your best bet. 
Now, When Landr Mastering Absolutely Makes Sense...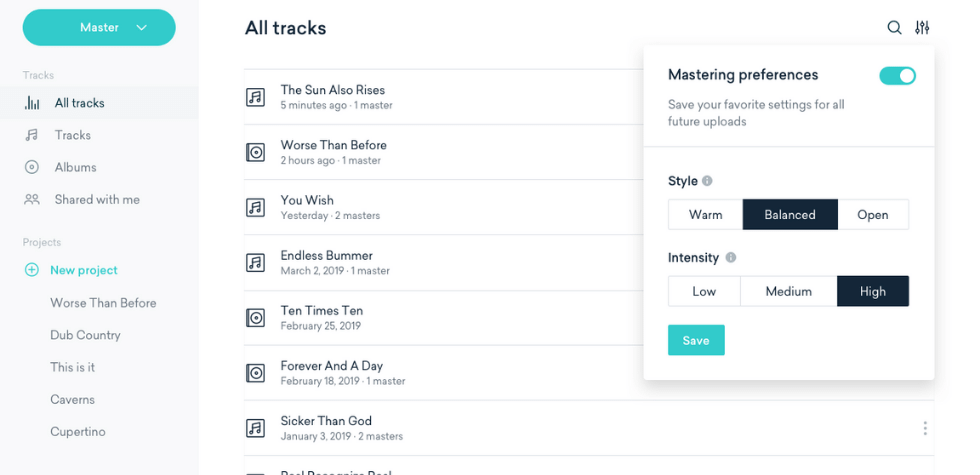 There are scenarios where Landr mastering or other similar automated mastering services make sense.
The main reason is because of savings in terms of the cost and time involved.  Yes, as you know by now, it's cheaper and faster than going back and forth with a mastering engineer.
So, let's say you want to play a track out to test it this weekend and you have a decent mix, and it's Friday already. Well,  chuck that thing into Landr and see what comes out.  It'll likely be good enough to at least use as a test to gauge crowd engagement.  That makes sense.
Another scenario where Landr mastering comes in handy is when you want to test what your current mix will sound like with some mastering.  Many mix issues may become blatantly apparent when you run it through Landr mastering.  You can then go back, tweak your mix to fine-tune it before sending it off to your mastering engineer. Think of it as a form of Quality Control.
The final scenario where Landr mastering makes sense is when you're starting out, you have little to no budget for your releases and you just want to start getting tracks out into the world.  Believe me, since the plague of 2020 hit, many more artists,  even some of the bigger names of pre-pandemic times,  have seen their bank accounts shrink substantially.  So, you're not alone if this is the case for you.