Formal music production schools and colleges offer you one viable route to learn what you need to learn as an aspiring music producer or beatmaker. In this post we explore whether this may or may not be the best route for you.  You'll also discover some good options to consider should you decide to invest in a formal education.

Let's start with the most important question you need to answer for yourself:
Do you need to go to a music production school if you want to produce music or make beats?
You probably know by now that you can learn pretty much everything you need to learn from free online resources like various sites and Youtube videos. That said,  many producers find that they prefer the structure of a well-designed course at a school or college because it helps them avoid the tedious trawling through random videos and posts online to find the right knowledge and training they need at the moment.
Another reason why learning from Youtube videos and the like can be difficult, especially for newer producers, is that when you start out you don't know what you need to learn or learn first.  A comprehensive, well-designed paid course can help alleviate this concern because the instructor, if they're worth their salt,  will have considered what to include or exclude from the syllabus.
We'll take a look at some of the main benefits and drawbacks of formal music production schools and colleges further below.  First, let's look at how to decide if this is the best route for your current situation.
How to decide on the best music production education route:
1. Start with your main intention or goal.

The first thing to do is establish if your own requirements.  Ask yourself the following:

Do you want to produce music as a hobby or do it as a career?
Do you want or need a degree or certificate?
Do you need a comprehensive course or do you need to just focus on a specific topic or topics?
Do you already have a preferred DAW that you want to use or use already?
Is there a specific genre or style of music you're intent on producing?

Once you're clear on your intention you'll be able to streamline the process of choosing the right music production school or course for you.
It makes more sense to invest in higher-priced courses if you're serious about music production as a career as opposed to it being just a hobby.
A degree or certificate may help you land certain specific jobs in future.
If you're just starting out then a comprehensive music production course may suit your needs better than a course that focuses on a specific production topic.
Some courses focus on specific DAWs, so if it's not the one you use you may get less from the course.
Some courses in the same way target specific genres, so it helps to know what you want to produce before you start your hunt for the ideal course or school for you.

2. The main routes for learning music production.

I've written before about the 3 main routes you can follow in this post about how to learn music production.

The main 3 routes discussed in that post are:

The Formal Education Route
The Self-Study Route
One-on-One

The crux of the matter is that most producers will follow some combination of the above three routes. You could, for example,  attend a comprehensive course online or in real life and supplement that with self-study and one-on-one mentorship to fill in the gaps or stack more music production skills after you've completed the main program.

You could alternatively skip the comprehensive formal music production schools and figure it all out by yourself, with the help of a trusted mentor.

Which route you follow is up to you and depends heavily on your intentions and the requirements you have.

Formal Music Production Schools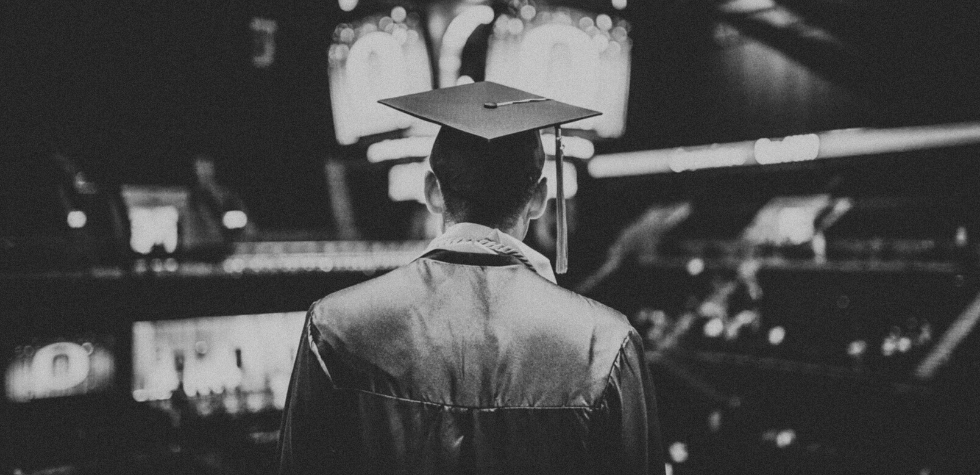 One route of learning music production is via formal education.  Below we take a look at some of the options you have as a producer when it comes to music production schools & colleges.
You'll also discover a small selection of 3 top music production schools for your consideration.
Advantages & Benefits of Formal Music Production Schools:
1. The Qualification

The main advantage of these types of music production courses is the certification or degree that you get upon completion.  This can be helpful should you plan to apply for certain high-end audio and music industry jobs where degree-level education is a prerequisite. It may be overkill should you however only plan to become a music producer or artist,  where degrees matter less and the quality of your body of work counts for more.

2. The Contacts/Network

Accredited programs and courses at formal music production schools, especially those you attend at campus facilities,  are also great for building up contacts if you take these courses in real life as opposed to online.

3. The Location

The city your campus is located in can make a massive difference in the long-run as some cities are saturated with music industry professionals, businesses and infrastructure.  Cities like Los Angeles, New York, Nashville, Chicago and London may instantly come to mind but there are other places like Boston and San Francisco which have some good options too.

4. Access to Experts

Certain schools offer programs by top-of-their-field experts.  As a student you get access to these high-caliber teachers which you really cannot get in many other ways. These formal music production schools or colleges often also bring in top professionals as guest speakers or lecturers which can beneficial.

5. The Filter

A well-designed formal course acts as a filter because a highly knowledgable teacher decides what goes into the syllabus and what doesn't.  This is great as it saves you time and focuses your learning on what's important for your progress, as long as you select the right course or program.

6. The Structure

The structure provided by courses or programs from top music production schools keeps you on track in a way that self-directed learning from Youtube and other online learning resources will not.  You have deadlines to keep to and standards to meet which create focus and progress that's difficult to replicate if you're going at it by yourself.
The Main Drawbacks of Formal Music Production Schools or Colleges:
1.  The Cost

The drawback with the formal route is of course that it's quite a significant outlay of money. Some one-year programs can reach $30,000+. This may not be a viable route for you unless you have access to such funds. You can get a lot of studio gear for that type of money and with so many free online resources for learning it's something you need to consider carefully before you jump in.

Important note:  Think carefully before you go into debt to fund your course.  The thousands of dollars you spend on a course can easily be invested into your studio setup, which you'll need if you're going to produce music.
2. The Time

Do you have 4 or 5 years available to get the degree you want? If not then it may be worthwhile considering part-time programs or short courses to get the education you need.

So, don't rush into this lightly.  Consider what you want to achieve and keep in mind that many top producers had little to none formal music production education.  Also, a lot of producers have taken these courses without seeing much success in their music production careers. That may not be down to the course but it's good to keep in mind that a degree is no guarantee for getting jobs or achieving success as a producer.
3. Admission Requirements
Strict admission requirements isn't really a drawback in itself since it ensures a certain standard is upheld.  That said,  it may prevent you from successfully enrolling in certain programs if you don't meet the needed requirements.

3 Good Music Production Schools With Online Programs to Consider: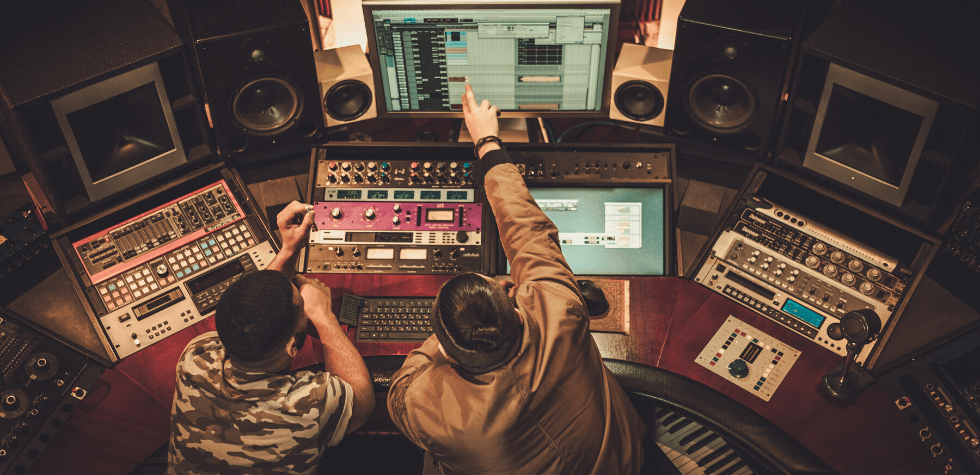 There are tons of music production schools so don't be surprised if there's a music production school near you if you're in a decent size city.
Many music production schools and colleges also offer online courses so you don't have to relocate to attend the course. If you do decide to go this route then 3 of the top music production schools and colleges to consider are Berklee College of Music, Point Blank School of Music and Pyramind Music School.
---
1. Berklee College of Music
Berklee College of Music is one of the most prestigious music colleges in the world.  The original campus is in Boston, Massachusetts and since 2012 they also operate a second campus in Valencia, Spain.  The list of Berklee alumni Grammy award winners is just under the 300 mark at the time of writing.
The good news is that they offer a range of programs ranging from 12-week courses right up to Master's degrees online.  You can learn more about these courses and programs here.

Top Tip: Coursera offers access to online courses from Berklee College of Music at various levels.  At the moment you get a free 7-day trial so you can check out your chosen course with no risk. After the trial their paid subscription model starts at a reasonable monthly price, so it's an option well worth your consideration when you decide to get your toes wet in the world of formal music production schools and colleges.  In some cases,  should you not require a certificate,  you may be able to audit the courses for free.

The specializations listed below are well worth looking into as an aspiring music producer. Please note the links below are affiliate links so RenegadeProducer.com might earn a commission for the referral should you purchase via these links. Thank you for your support!
1. Electronic Music Production Specialization
This specialization consists of 4 courses which include:
The Technology of Music Production
Introduction to Ableton Live
Creating Sounds for Electronic Music
The Art of Vocal Production
This course will be well-suited to producers who want to produce electronic music.

2. Music Production Specialization
This specialization also consists of 4 courses which include:
The Art of Music Production
The Technology of Music Production
Pro Tools Basics
Music Production Capstone

This course will be better suited to producers who want to produce a variety of music which may include recording, editing and mixing in the more traditional sense.

---
2. Point Blank School of Music

Point Blank is another great music production school to consider.  They operate schools in London, Los Angeles, China, Ibiza, Mumbai and also offer programs and courses online.
The online programs and courses available range from specialized 2 or 3 month courses like Mixing Electronic Music  and Complete Sound Design right up to a full 3 year BA (Hons) Music Production & Sound Engineering degree, validated by Middlesex University.  You can see the full list of current online courses and programs available from Point Blank on this page.
Past students include artists like Aluna Francis, Claude von Stroke, Leona Lewis, Pete Tong, Goldie and Nicole Moudaber to mention a few.

---
3. Pyramind Music School
Last but not least on the list of music production schools is Pyramind based in San Francisco.
Their course offerings include comprehensive full-time programs like The Complete Producer, Electronic Music Producer and Core Producer as well as shorter online lessons like Audio Fundamentals and Music Theory for Producers. In addition they also offer private 1-on-1 mentorship online which you can pair with your classes.
The full-time courses will require a significant investment.  The Core Producer Program, for example,  has a tuition fee of $18,995, at the time of writing.  The shorter online classes range from completely free up to $139 at the time of writing.

You'll find current Pyramind online classes listed here.

---
In Conclusion:

The life of a professional music producer is one of life-long learning.  The industry and tech changes fast and staying up to date with what's happening is essential when it comes to music production.
Music production schools can provide a good foundation for your journey as a producer and artist.  That's however just the start.  Your progress will depend on your own motivation and drive to keep getting better and better.  A combination of structured learning and ongoing self-directed education will be what makes the real difference.
The 3 schools you discovered in this post are by no means the only options available to you.  So, consider these suggestions as a good starting point for your research and make sure you make the right choice for your own needs as a producer.
Remember to also check out this page on music production courses and tutorials.