This post is about how to write music like a pro. We have a look at the attitude, process, tools, skills and knowledge you want to cultivate, and use, as a newcomer serious about the craft.  This is not an in-depth music theory, composition or technical post.  This is more of a musing on the overall mindset and context you need to write music.

That's, of course, if you mean it! 
Yes. The question is how to write music like you mean it. Like a pro.

The simple answer is:  You write every day.
That's the main difference between the pro and the hobbyist. Thanks for the clarification, Mr Steven Pressfield.1
Well, that's the theory. More difficult in practice. Still.  The point is to write as much as possible regardless of inspiration.
Keywords: Consistent and constant. 
Now...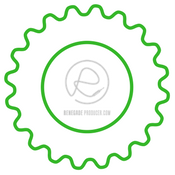 ... as for the process...

It should be quite simple.
Here's how:
Invoke the Muse:
Fire up your lava lamps, dim your LEDs, do a little dance, burn some incense. Do whatever it takes for you to go from your everyday problem-solver-mind-state to your more playful creative mode.
Cut out all potential distractions. "We all operate in two contrasting modes, which might be called open and closed.
The open mode is more relaxed, more receptive, more exploratory, more democratic, more playful and more humorous.
The closed mode is the tighter, more rigid, more hierarchical, more tunnel-visioned.
Most people, unfortunately spend most of their time in the closed mode. Not that the closed mode cannot be helpful. If you are leaping a ravine, the moment of takeoff is a bad time for considering alternative strategies. When you charge the enemy machine-gun post, don't waste energy trying to see the funny side of it. Do it in the "closed" mode.
But the moment the action is over, try to return to the "open" mode—to open your mind again to all the feedback from our action that enables us to tell whether the action has been successful, or whether further action is need to improve on what we have done.
In other words, we must return to the open mode, because in that mode we are the most aware, most receptive, most creative, and therefore at our most intelligent." – John Cleese

It takes some time to transition into play mode.  Make your writing session at least 90 minutes long.
Then:
Imagine the song you want to write. What type of song is it?  What's the main point of the song? Choose some references and immerse yourself in them for inspiration.

Use songs, films, books, images or anything else that stimulates your creative mind to produce ideas.
Switch on your recorder or DAW. Use your favorite real or virtual instrument or sing or bang the table. Anything that makes a sound is fair game.

Start!  Start with...
... a melody
... a chord progression
... a loop
... a riff
... an ambient pad or soundscape
... a line
... a title
Hit record. Try something. Anything. Doesn't work? 

The Writing Process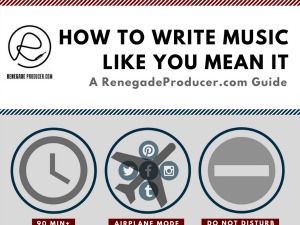 The Writing Thought Process. Click to enlarge.
Quick. Scrap it. Try something else.
Got it? The seed. The idea.  That something that makes you go,  yeah, that's something there.  I can work with that.  You can feel it in your nerve endings. Catch it! Save your session.
Perfect.  Next, ask yourself...

"What do I need to add?" "What's next?"

Add something that's the yin to your seed idea's yang. Say the seed idea is long and smooth. Add something that is short and spiky. Contrast. Balance. Juxtapose. Work it!

Or.  First add something to reinforce your seed idea.  Another layer. Another line, verse, chorus or bridge.  Harmonic or percussive.  You decide.

All good?  Nice. Onwards!  Again...

Repeat this process.  Always coming back to the above two questions, until...

...  the answer is "nothing".

At this point you have a song. The beginnings of one at least.

Now, you can go back and craft it some more until it's ready to go out and charm the entire planet on your behalf.

That's how to write music.

Simple, right?

"Now, wait a minute!" you may think or even say out loud.

You're right to object. The above summary of how to write music may be one simplified way to look at the background decision-making process of a songwriter.
It leaves out a HUGE lot of course.

What's missing?

What's needed!
"How do I know if I got something?"
"How do I know what to add?"
"How do I know if it works or not?"
Yes, the craft of songwriting makes certain demands on you.
It requires basic songwriting knowledge, skills and habits to make the process work.
More on that further below.  First, let's talk fish...