You may already realize at this point that to write music like you mean it is a marathon, not a sprint.  The songwriting game asks that you stay focused on the process in the moment.  At the same time it requires patience.  The type of patience that you get when you play the long game.
What does this mean in practice?

It means one has to cultivate good songwriting habits because, as the old saying goes, you become what you consistently do.  Below, you'll find a few good habits to cultivate.

7 Great Songwriter Habits to Cultivate:
Capture everything, everywhere, anytime.  Keep a growing database of ideas in the cloud or on paper.
 

Learn to always ask what the song needs next.  Allow the current state of the song to suggest the possibilities for the next state. Try what feels right. Keep what works and discard the rest.


Deconstruct and analyze songs in your genre and beyond. Peek under the hood to see what makes them tick in terms of lyrics, beat, music, song structure and instrumentation.  Take note. Use. This habit will teach you more about how to write music than most things.


Continue to grow your toolbox of songwriting techniques.


Continue to expand your music theory knowledge.


Write every day in sessions at least 90 minutes long.  This is especially important when you want to come up with new ideas.


Improve your songwriting process as you improve your music.  Learn more about songwriting every day.
Knowledge & Skills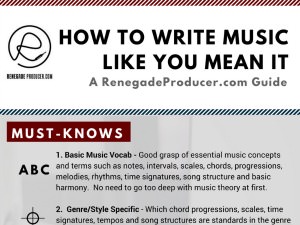 Knowledge & Skills. Click to enlarge.
---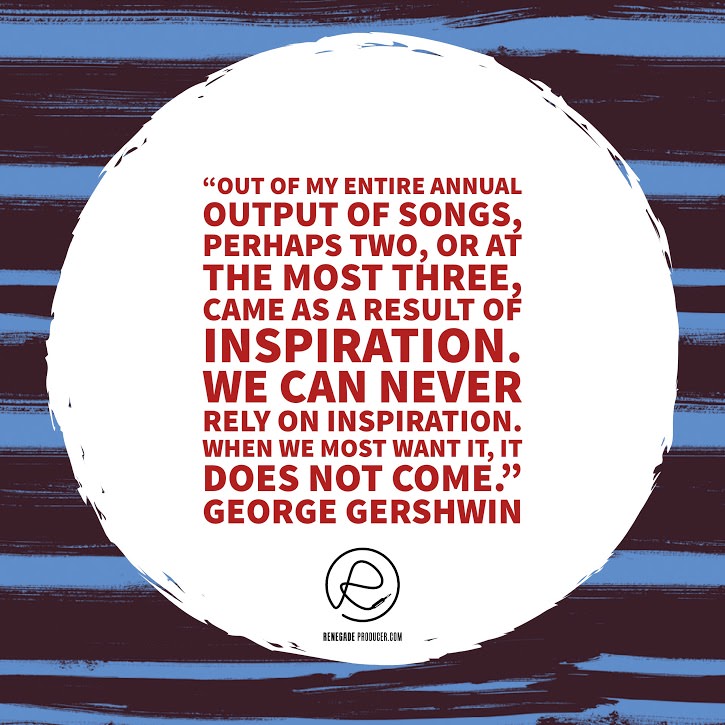 A Quick Note About Inspiration:
Inspiration comes and goes as it pleases.
We don't sit and wait for it.
We write every day.
Inspired or not.
EVERY day.
Sit down.
Write!
---
The Talent Thing:
Forget about it!
A: You cannot affect it.
B: The word "talent" is more often than not used in the context of an excuse.
Talent plays a small role.  So small it's irrelevant in practice unless you have a ridiculous amount of talent.
That's not me.  Probably not you either. Even if it was.  The answer is the same:
Sit down. Write!
---

How to be Creative:
#1. Decide to be Creative
Done!
OK. That's not all there is to Creativity. No guarantees here.
Still, the decision to be Creative is in itself one of the most powerful things you can do to be Creative.2
Creativity is not talent.  It's a set of attitudes and a way of operation.3
So, simply decide to do it and start to do it.
It may not work but then again, it might just!
"If psychologists wish to teach creativity, they likely will do better to encourage people to decide for creativity, to impress on them the joys of making this decision, and also to inoculate them for some of the challenges attendant on this decision. Deciding for creativity does not guarantee that creativity will emerge, but without the decision, it certainly will not. As a mentor, nothing makes me happier than watching at least a substantial proportion of the students I have mentored make this decision. They decide that they may pay a price but that it is a price worth paying. By making this decision, they transform both their own lives and the lives of others. What greater reward can life hold?" ~ Robert Sternberg
---
Learn How to Write Music, Faster - Selected Resources:
Hookpad
Hookpad is a free online music sketchpad by the folks over at Hooktheory.  It allows you to create chord progressions and melodies.

It's a fun way to learn about chords, progressions and scales all in one place. It also shows you the Roman Numeral system of numbering which is pretty handy once you know it.
There is a paid version available that allows you to export your work as MIDI to use in your DAW among other options.  I've not used the paid version so I cannot comment but you can still play and learn a lot with the free version.
Go play right now, here. (affiliate link)

---
---
Pat Pattinson - Professor at Berklee College of Music
Professor Pattinson knows songwriting like few others and his lectures are filled to the brim with useful advice and insights on how to write popular music. Oh, and did I mention that a ton of his lectures are available in full, for free, on Youtube?

Do yourself a favor and binge watch this playlist below! Remember to also check out his book, mentioned below.  The insights he shares on lyric-writing are especially powerful.
---
Music Theory for Musicians and Normal People

This collection of posters by Toby W. Rush explains the fundamentals of music theory and does so in a novel way.   It may be aimed at kids but at least it's easier to digest than many other dry music theory books.

You can download the PDF here.

Now, Go and Bring Back Fish Dinner for the Tribe!
Start today.  Write something new. Learn something new. Listen to something new.
Repeat this every day.  Write. Learn. Listen. Repeat.
Find yourself bored?  Up the challenge-level.
Find yourself frustrated? Up your skill-level.
You should, having read this far, have a decent idea of how to write music like you mean it.  Yes,  it's the big-picture overview and yes, you may still have the most of your learning ahead of you when it comes to the details of what you need to learn.
You can imagine that it's not possible for me or anyone to teach you the magical side of songwriting.  I don't know if it's teachable. It seems like something which happens, sometimes, when you are at work on your craft.  Sooooooooo ...
... be at work as much as possible.
I wish you tight lines and a good catch!
P.S.  Watch this space for more on songwriting and creativity soon.
P.P.S. Please share this post if you like it. Thank you!