What is Syntorial?
Syntorial is a software application that helps you learn synth programming in an interactive, gamified way.
The app contains video lessons, interactive challenges and a built-in soft synth. The synth can also be used as a plugin in your chosen Digital Audio Workstation.  The full version also includes specialized lesson packs for most of the top soft synths like Massive, Serum and Sylenth 1, among others.
With Syntorial you get:
199 core lessons
129 interactive challenges
39 Quizzes to test your knowledge
Primer, a built-in synth that can be used as a DAW plugin
With Syntorial you learn:
How to recognize and use 64 different synth parameters
How to program over 700 different synth patches from scratch
How Does Syntorial Work? A Quick Peek Inside:
Once you've downloaded, installed and opened the Syntorial software you'll be asked to create a user name.
Next you'll be shown the introduction video and then you'll be taken to the screen where you can start the lessons shown below.
Once you start a lesson you'll be shown a video that teaches you about the function you're covering in the lesson and what you need to know to complete the challenge that follows the video.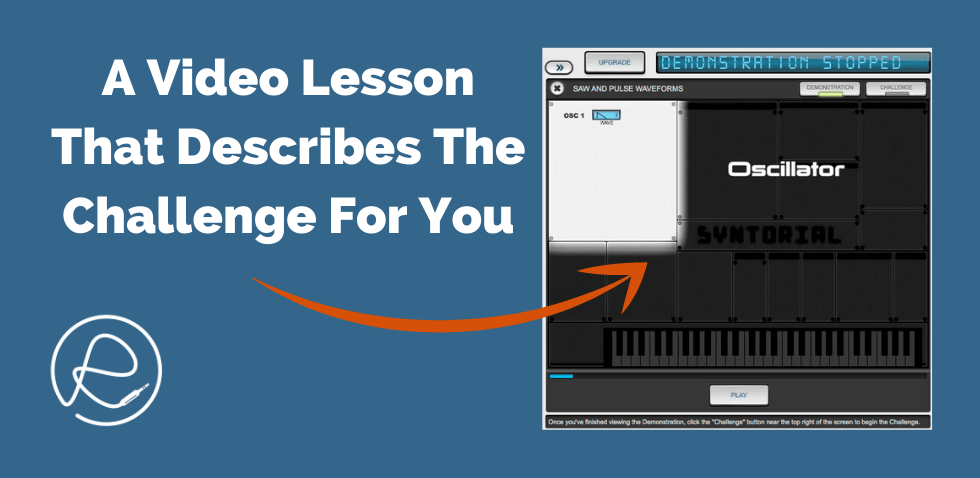 After the video lesson you can start the challenge which begins with a hidden patch that you need to listen to and recreate.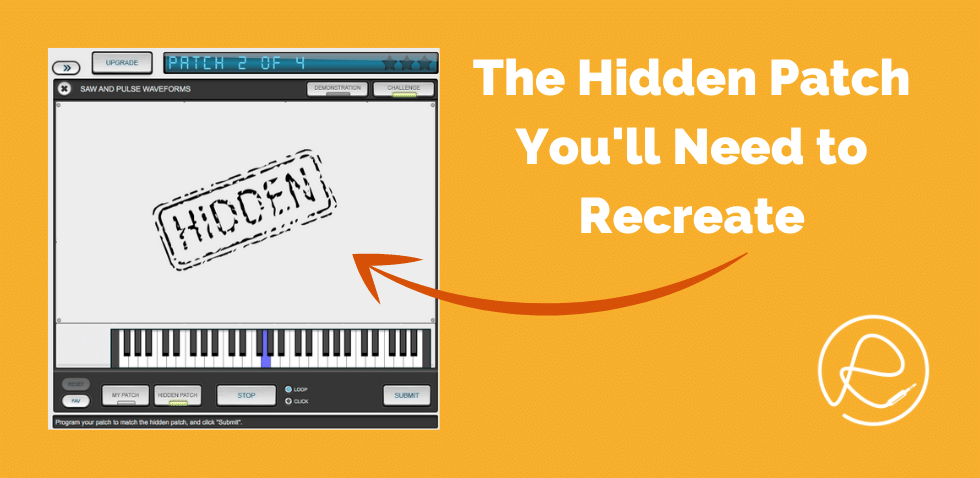 Click over to "My Patch" and then make the adjustments to the available parameters to recreate the hidden patch and click the "Submit" button when you're ready.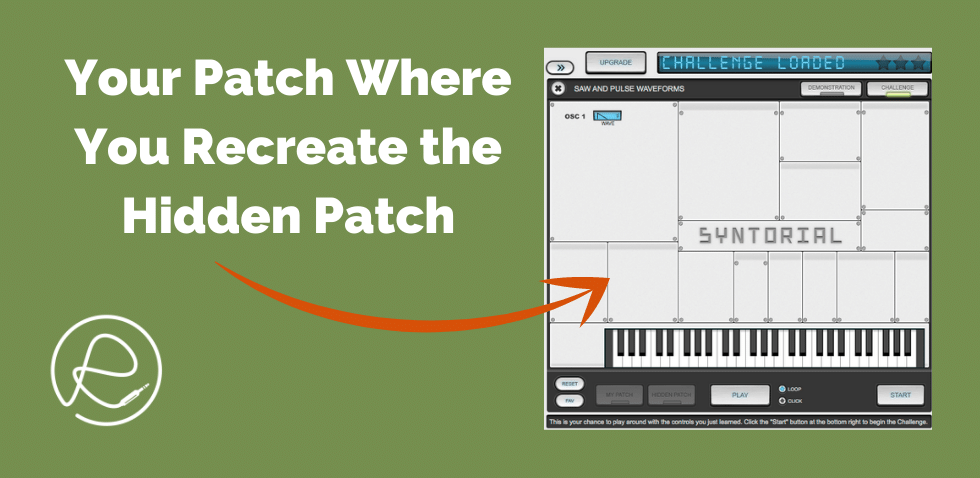 Syntorial will then check your submission and let you know whether you got it right or wrong.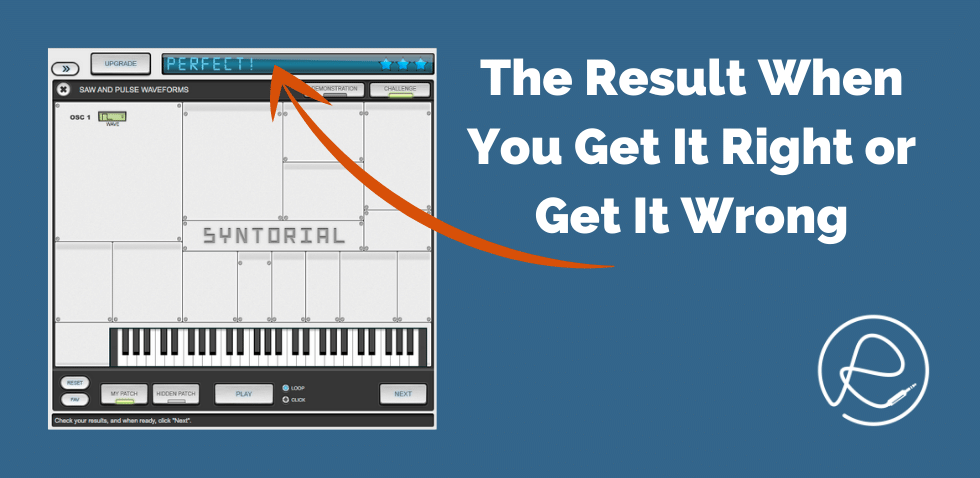 Notice that Syntorial only displays the function/s needed for the challenge.  So,  in the first lesson, shown above, the challenge is simply to select between a square and a saw wave.
This is great as you don't get overwhelmed with other synth functions and parameters when you start out.  Syntorial progressively adds only the functions and parameters you need as the learning process and difficulty level develops.
You will, as you move through the lessons and challenges, learn not only all the basics of synthesizers like oscillators, filters and envelopes,  you'll also learn how to program the classic and more modern synth patches used in music production.
Syntorial: My Personal Experience
The download and installation was as smooth and easy as could be.
I found the first few lessons and challenges quite easy since I'm not new to synth programming.  Later lessons however became a bit harder to ace even for me.  I'm still working through the lessons and challenges as I get time and I love the process.
Yes, Syntorial gets harder, much harder. That's the point of it. Syntorial is a form of deliberate practice and keeps upping the difficulty as you improve your skills. That's how it helps you get better and better at synth programming. 
I've not yet dived into all the extra 3rd-party synth-specific lesson packs yet.  If you want to focus on learning a specific synth like Serum or Massive I would suggest you start with the extra lesson pack for your chosen synth.
All-in-all I cannot fault Syntorial.  It's well-thought-out and does what it says on the tin in an effective and fun way.  Way more interesting and challenging than watching "how-to-make-this-sound" Youtube videos!
What I like about the Syntorial process the most is that it's trained me to listen differently.  I notice elements of patches by ear more and more.  As you can imagine, I'm also getting better at recreating synth sounds because of this intensive training.
Syntorial Review: The Pros & Cons
Now, let's take a quick look at the best parts of Syntorial and also a few of the aspects which some consider to be not so good.
The Pros:
An interactive and fun way to learn all you need to know about audio synthesis.
Includes video lessons, interactive challenges and how-to's for various patches.
Gives you the audio synthesis knowledge you need but also helps you train your ears and brain to know which parameters and functions do what.
The Cons:
The price. Some may feel the price is hefty, but when you consider the total skill-set you acquire it's decent value for money.
It gets quite difficult at later stages and if you don't get the challenge exactly right you don't pass. Again, this helps you get really good with synth programming, so also not really a con in my books.
Syntorial Review: My Final Verdict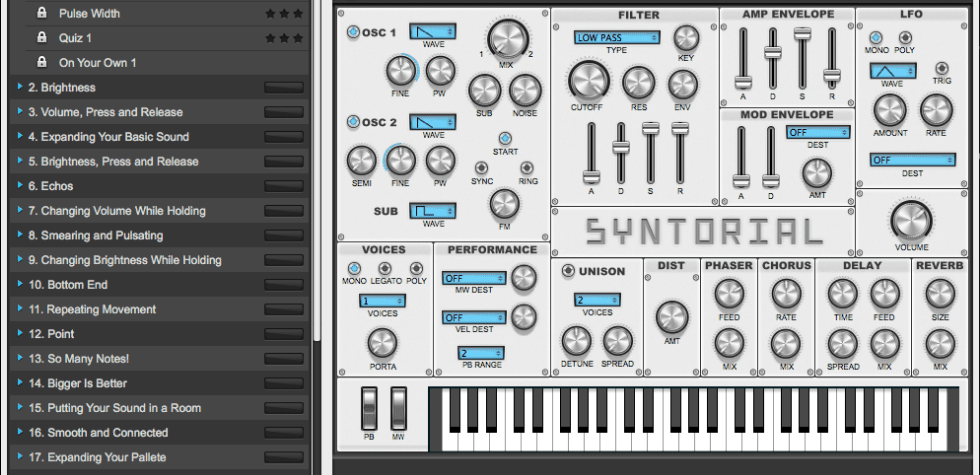 It's true that you can learn a lot about synth programming by taking courses and from Youtube tutorials.
Syntorial takes the learning process to another level which you just won't be able to do when you just watch courses and tutorials alone.
The structure and the progressive advancements you make give you not only a firm foundation, from basic to advanced, it also gives you a way to train your ears and brain to recognize and utilize all the synth parameters and functions you'll use in practice.
So, in conclusion,  I believe that Syntorial is a no-brainer because it's by far the best available way to learn audio synthesis.
Syntorial Review: What Others Have to Say
Below you'll find a few comments about Syntorial from other producers who have tried it.
"Syntorial is an excellent resource for learning and mastering synthesis. It's really important to understand the fundamentals that are often lost in today's YouTube tutorials. I'm using it to re-learn synthesis and get a better grasp of concepts I missed along the way." – Morgan Page, Two-Time Grammy Nominee
"Where was this program when i was trying to learn synthesis ? This program is the most cutting edge method to learn synthesis. Highly recommended. It even tightened my shit up." – Mike Huckaby, Detroit DJ/Producer/Educator