Q: How Do You Gain Stage in a DAW?
A: The main goal of gain staging or getting a good gain structure is to make sure you have a healthy signal at every point where your audio signal is amplified.  This means you want it at the right level to get the sound you want.
The other important thing is to maintain some headroom on your master bus output.
Every point of amplification in your signal chain is called a gain stage. Adjusting the level on all these gain stages so that they produce the level and sonic results you want on the master bus is what gain staging is all about.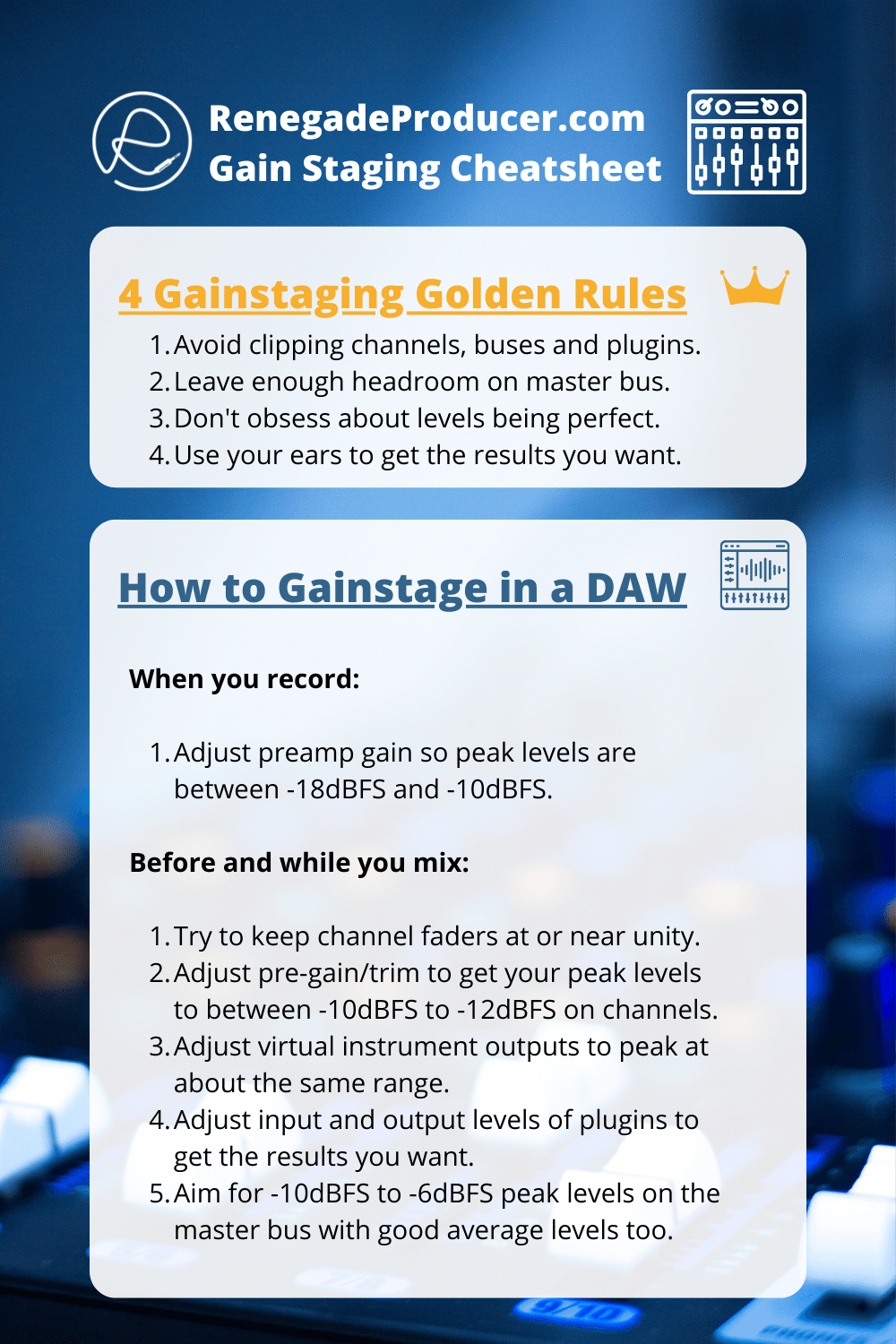 Here's a simple gain staging how to process:
When you record:
Adjust the pre-amp gain so that your peak levels going into the DAW is between -18dBFS and -10dBFS.  The more dynamic the source that you're recording the more you want to err on the safe side and lower your gain or use a compressor to reduce the dynamic range a bit.

In other words, if you have a vocalist that sings very soft in some parts and very loud in other parts then you want to make sure that the loudest parts won't get close to peaking near 0dBFS.
Before and while you mix:
Leave your channel faders at unity.
Now adjust your pre-gain/trim to get your peak levels healthy on each channel. -10dBFS to -12dBFS will be fine.
Adjust your virtual instrument levels in the plugins themselves to get a similar healthy output level.
Then, as you add insert or send plugins you can adjust the input levels and output levels on each plugin to maintain the same levels.  This will differ from plugin to plugin but it's especially important for plugins that change the signal level such as EQs or compressors. If your plugin doesn't have an input or output gain knob or fader you can insert a gain plugin before or after the plugin as needed to match input and output levels.
Try to adjust everything throughout your mix so that your master bus peaks at around -6dBFS to -10dBFS as this gives the mastering engineer some headroom to work with.
Important: Don't obsess about the numbers. That's a surefire way to waste valuable time while you mix and won't get you better results anyway.  Just use your ears.  If it sounds good, it is good.