Digital Music Distribution
for the Renegade ...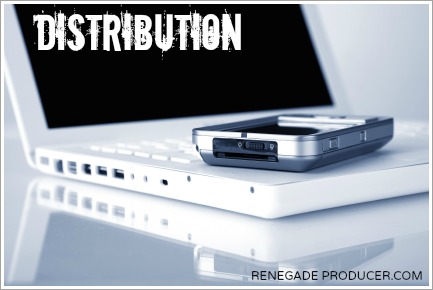 Digital music distribution and the self-distribution model offers you a way to make your own music available to potential fans without handing over the rights to your music.
Yes, you can still chase a traditional record and music distribution deal. It's not easy however to get a good deal when you just start out in the music business.
So, at first make a deal with yourself, and DIY to get your music out there! It's do-able...
You see, the Web has shaken the music industry in a radical way, down to the foundation, and this includes the role of music distribution companies. The control over music distribution once monopolized by the major record labels slips away more and more as the Internet grows.
You obviously know by now that you can get music to a worldwide audience via the Internet, which means selling CDs in retail stores is no longer the only way to make your music available to your fans.
Digital music distribution opens up a range of new music distribution channels which means you can avoid the old route of finding distribution for your music. You can get your music on iTunes, Amazon, eMusic and other retailers and it's not difficult to do.
You will find various online music distribution companies which can get your music into major online music retailers and some which will even handle your CD sales for you.
You might also enjoy this guide to help you sell music on iTunes I've created for your reference. I recommend Tunecore or similar companies should you want to get your music on many different online retailers including iTunes, Amazon and streaming services such as Spotify.
I've written about a great service you can use to send and receive your music files for free here.
I also highly recommend Bandcamp as a way to distribute your music online. It's simple to use, has a great interface and does what it says on the tin. You can also use it to sell your physical merchandise. This is a great service for independent artists.
Related Pages...
Online Music Video Distribution