Most modern audio recording software applications allow you to...
... record sound from external sources into your computer where it is stored in digital audio format.

... edit the digital audio parts you've recorded.

... play back the audio you've recorded.

... mix various audio tracks you've recorded with volume, panning and and equalization tools.

... add effects, compression, reverb, flanging and distortion to alter the sound of your recorded audio.

... mix your track down to various file formats such as WAV, AIFF, AU and MP3.  

... import and export audio to internal and external sources.


The Audio Editor Interface...

You'll find the interface of most audio recording software displays horizontal tracks stacked vertically on one another.

Your recorded audio will show up as blocks on the track with a graphic representation of the audio recorded on each block as a wave.

You will also have a cursor which moves from left to right over the tracks and indicates the current play or recording position in the song.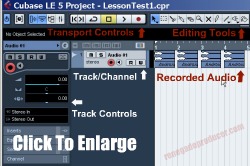 Most audio editing applications allow you to edit your audio with tools such as cut, paste, move, copy and paste.

You will also find most programs offer you tools to automate volume, panning and other changes.
Got Flow?
Do you feel frustrated with your music production progress at the moment?

Imagine you could get unstuck, break through blocks and make more music, faster.

Check out this course right now:


---
---
Types of Audio Software...
You'll find many stand-alone audio only editors,  both free audio software and commercial packages are plentiful.  Reaper, Audacity and Sound Forge and Wavelab.

You'll also find that full production packages or digital audio workstation software such as Steinberg Cubase, Cakewalk Sonar, and Apple Logic Pro all contain advanced audio manipulation tools.

You will as a musician and producer be much better off when you simply choose one of the three above full production packages as they have other music production tools such as MIDI, plug-in compatibility and virtual instruments which the stand alone editors don't always provide.
You will also find most other recording musicians and producers use the full production packages to produce which means it will easier to get support from other users of your chosen software.